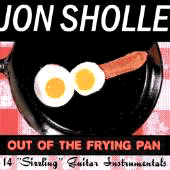 "OUT OF THE FRYING PAN" liner notes
Jon Sholle happens to be an avid cyclist, and from the way he plays the guitar, I'll bet he rarely takes the easy route home. Because a solo of Jon's is like an adventure-- a playful romp over the neck of the guitar, with twists and turns that both surprise and delight
the imagination.
Jon can play most of the American music idioms with equal verve. Whether it be folk, bluegrass, old-timey, Texas swing, blues, funk or jazz, Jon's a master chameleon who leaps from musical chair to chair with ease, bringing his distinct personality to each genre. But Jon only embraces the styles for which he has a genuine love and enthusiasm. For all his technical ability, his emphasis is always on capturing the "feel" of the music-- to find the pulse or beat that connects to his own spirit
and emotion.
After winning the Union Grove "World Champion Guitar" prize in 1967 and 1968, Jon performed and recorded with a dizzying array of musicians and singers: Peter Rowan, Tony Rice, Bela Fleck, Melissa Manchester, David Bromberg, the Duke Ellington Orchestra, Esther Phillips, Sonny Stitt, Maria Muldaur, Kate & Anna McGarrigle, Allen Ginsberg, Bette Midler, and many more.
He was finally able to coalesce his astonishing versatility when he joined the eclectic David Grisman Quintet, where he was next in a divine lineage of great guitarists that included Tony Rice and Mark O'Connor. After completing two years with the DGQ, he has continued working with a variety of musicians in the New York area, as well as lending his talents to Broadway shows and jingles.
A few months ago, I watched Jon sit in with the fabulous Tim O'Brien and the O'Boys. As they traded solos on an extended version of "Nine Pound Hammer," Jon followed Scott Nygaard's melodic single note solo with beautifully constructed cross-picking patterns and bluesy slides that contrasted and complemented Scott and Tim's solos perfectly. And the crowd went wild. Scott's reaction was clear: a wide grin from ear to ear. Afterward backstage Tim shook his head with amazement. "Jon, how do you do it?" he asked. "You're on stage for just a couple of seconds and you play something that brings down the house."
And so here is Jon's "bluegrass" album. The quality of the supporting players-- bluegrass titans such as David Grisman, Andy Statman, Tony Trischka and Kenny Kosek-- tells you what other musicians think of Jon's playing. Now it's your turn to jump on Jon's musical bike and take her for a spin. Sit back, relax and enjoy the scenery. And remember-- don't always take the easy route home!
Ethan Wiley
Millwood, NY
December 1996